Keto Skillet Peanut Butter Chocolate Chip Cookies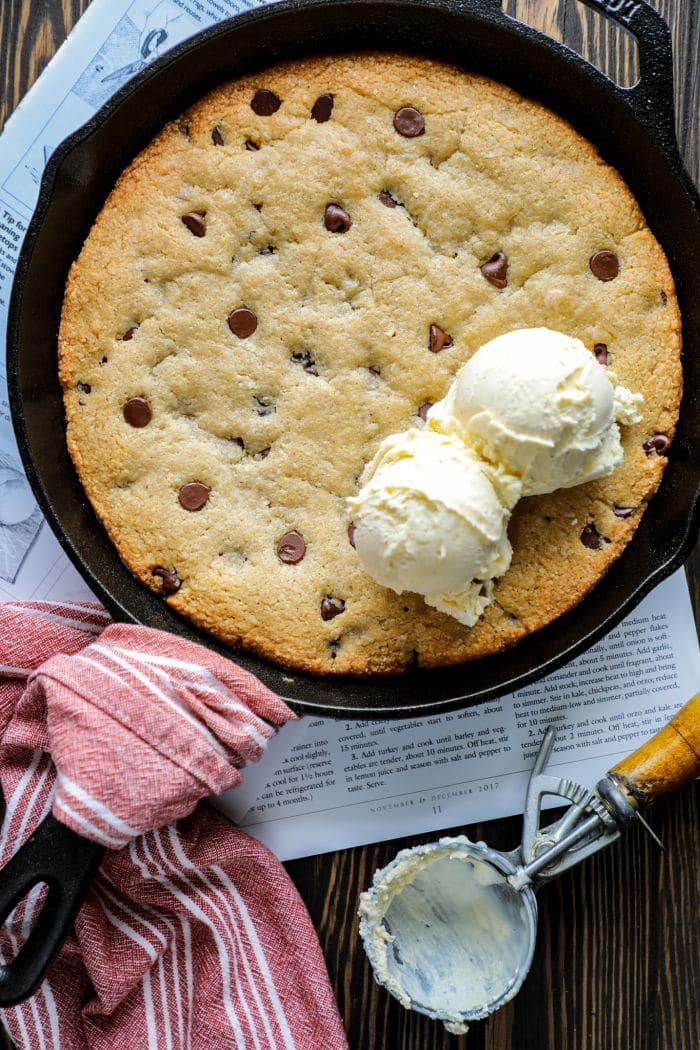 Who doesn't love a good skillet keto cookie pie? Learn how to make my favorite keto cookie recipe that's loaded with natural peanut butter and dark chocolate chips. It's low carb, sugar free, and gluten free too!
Bon Appeteach is a participant in the Amazon Services LLC Associates Program, an affiliate advertising program designed to provide a means for sites to earn advertising fees by advertising and linking to amazon.com. I only share products that I use and stand behind personally, have used, and would buy myself. Thanks for the support!
Whether you're new to following a ketogenic diet or you've been on the wagon a long time, you know that sometimes you just need a simple indulgent treat to cure you of your sweet tooth cravings. This cookie recipe is everything you needed to do so and more!
Now I know there are a lot of other great cookie recipes out there. I love a good tried and true Keto Copycat Samoa Cookie , these classic Keto Shortbread Sugar Cookies, Keto Thin mints or these Keto Hot Cocoa Cookies too, but an easy mix and dump batter that goes right into a skillet is about as simple as it gets.
Grab all the details below for helpful ingredients tips and substitutions, preparation techniques, and ways to doctor up this cookie (like with a big scoop of delicious No Churn Keto Ice Cream) to really take it to the next level. Let's dive in!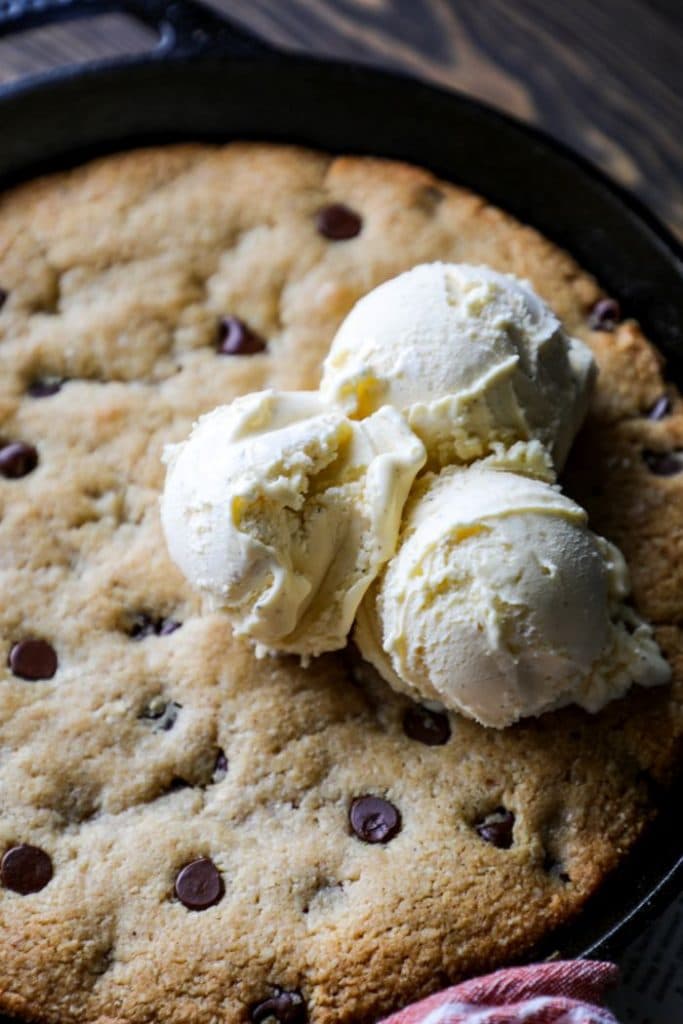 "School" Supplies:
Cast Iron Skillet
Large Bowl
Smaller Bowl
Rubber Spatula or Hand Mixer/ Stand Mixer
Measuring Cups/ Spoons
Whisk
"Class" Notes:
Below I will answer some common questions I have had in regards to this recipe. I'll break down the ingredients and substitutions, nutritional information and everything you need to know about eating peanut butter on a keto diet, and the best baking tips too.
Is Peanut Butter Keto Friendly:
Whether you're following a keto diet for health reasons or for weight loss, this is a common question I have been asked since sharing this recipe. In general, peanuts are seen as a fairly higher carb nut and most peanut butter's contain a lot of extra sugar.
So how did I make a keto peanut butter cookie? The trick is in the serving size and using a high quality peanut butter with no added sugars.
For example, this recipe uses 1/2 cup of peanut butter. I like the No sugar added Jiff brand which is 16 net carbs in 1/2 cup. Eating that in one serving is definitely not going to benefit anyone following a strict keto diet.
Spread that 16 grams of net carbs into 8-12 servings and the carb count is now much lower without skimping on the delicious peanut butter flavor you want in your cookie!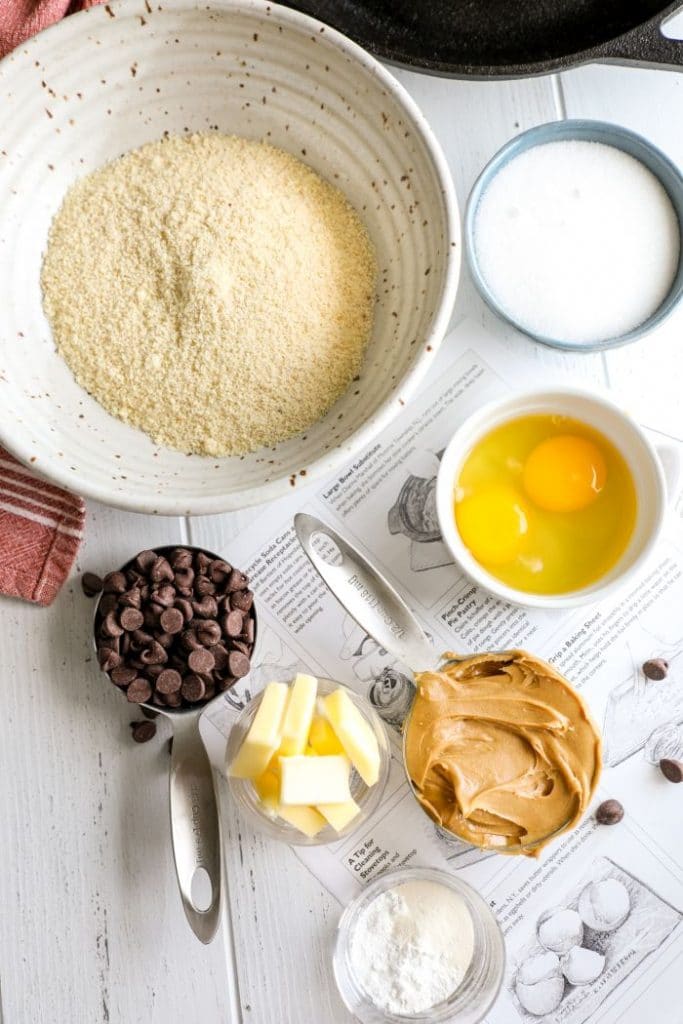 Ingredients:
Almond Flour – I use a fine almond flour in place of traditional flour in this cookie. You can substitute for coconut flour if desired but use 1/2 cup less (coconut flour absorbs moisture differently) and it may come out a little more crumbly.
No Sugar Added Peanut Butter- Like I mentioned above, choose a no-sugar added brand of peanut butter. If you prefer almond butter or other nut butters, you can sub as desired.
Eggs – Eggs work best at room temperature. I like to whisk them into the peanut butter mixture as well. They will act as a binding agent for the almond flour.
Butter- Softened and salted butter works best. Do not melt the butter!
Low Carb Sweetener – Choose a sweetener you prefer. I used granulated allulose because I like the effect when baking and it doesn't have an after taste to me.
Baking Powder- Leavening agent.
Xanthan Gum- This works really well to promote a chewier texture to the cookie. When you remove gluten, you lose that effect and this helps! You can sub with cornstarch or arrowroot powder too.
Keto Chocolate Chips or Dark Chocolate- I use

Lilly's brand

or

Choc Zero

. A solid dark chocolate would work too. Use what fits your diet and macros!
How to make a keto skillet cookie:
This recipe follows a very similar process to most cookie doughs (keto or not). Start by always combining your dry ingredients (almond flour, sweetener, baking powder, xanthan gum) and whisk together until combined.
Take your softened butter and no sugar added peanut butter and whisk that together in a separate bowl. Then beat in the eggs, one at a time.
Fold the peanut butter mixture into your dry ingredients. It will start to look like wet sand, then become a thicker cookie dough base.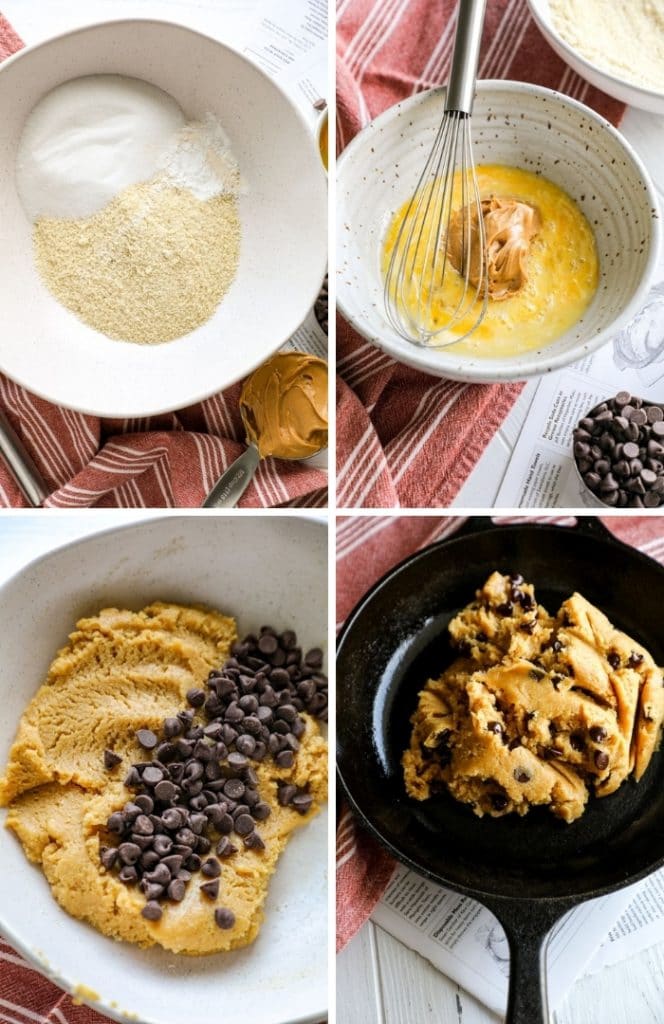 Finally add in your chocolate chips and reserve a small amount to push directly into the top to make the cookie skillet look pretty and presentable.
Bake the cookie off in the oven until set, about 25 minutes or so. Let it cool a bit before digging in (because it does taste amazing warm out of the oven).
Other helpful recipe notes:
This recipe will not work as individual cookies. You can swap out the skillet for an 8×8 inch pan and make them into bars, but a rolled cookie will not form the same way.
Make sure you're using a seasoned cast iron skillet. You can also spray the skillet too to help prevent sticking.
Pair this cookie with my delicious No Churn Keto Ice Cream or even some

homemade keto caramel sauce

.
This is a lower carb cookie, but the it is still high in fat. The full nutritional information (fat content, protein, sugars, and net carbs) is listed below.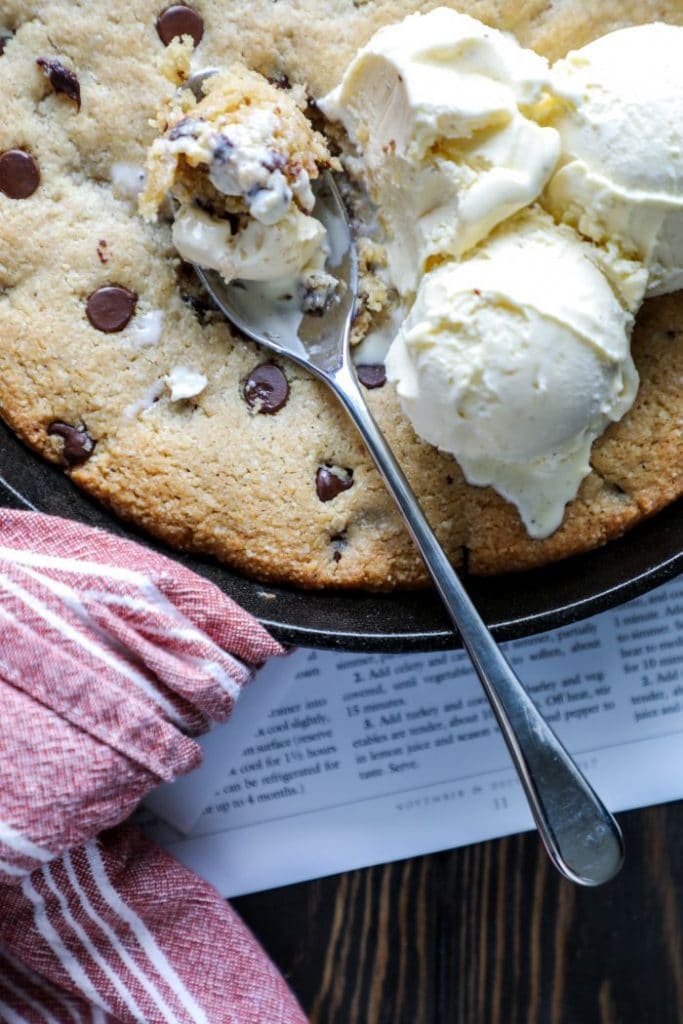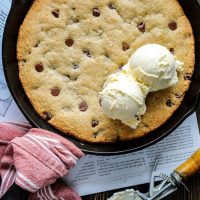 Keto Skillet Peanut Butter Chocolate Chip Cookies
Who doesn't love a good skillet keto cookie pie? Learn how to make my favorite keto cookie recipe that's loaded with natural peanut butter and dark chocolate chips. It's low carb, sugar free, and gluten free too!
Print
Pin
Rate
Ingredients
1/2

cup

No Sugar Added Peanut Butter

4

Tbsp.

Butter

softened

2

Eggs

1

tsp.

Baking Powder

1

tsp.

Xanthan Gum
Instructions
Preheat your oven to 350 F. Use a 8 inch skillet and grease it if needed.

In a mixing bowl, mix your dry ingredients together (almond flour, sweetener, baking powder, and xanthan gum).

In another smaller bowl, combine the peanut butter and softened butter. Then whisk an egg in one at a time until incorporated.

Fold or mix in the peanut butter mixture into the dry ingredients.

Mix in your chocolate chips, reserve a few to push directly into the top.

Pour the cookie dough into your skillet and spread it out until it's evenly spread across the pan. Add the few remaining chips to the top to decorate and press them in slightly.

Bake an 8 inch skillet for 18-20 minutes. If using mini cast irons pans Bake for about for 8-10 minutes.

Remove from the oven once the cookie is lightly browned, may still be a bit soft but the dough is set.
Notes
Swap put peanut butter for almond butter instead if you prefer!
Nutrition
Serving:
1
g
|
Calories:
222
kcal
|
Carbohydrates:
6
g
|
Protein:
8
g
|
Fat:
20
g
|
Saturated Fat:
6
g
|
Polyunsaturated Fat:
13
g
|
Cholesterol:
62
mg
|
Sodium:
227
mg
|
Fiber:
2
g
|
Sugar:
1
g