Keto Pepperoni Pizza Quiche
This keto and gluten free pepperoni pizza quiche recipe is a family staple for breakfast, meal prep, and even for dinner!
I like to make (or remake) foods that remind me of my childhood. We all have those foods that just say, "home". For me, that is potato soup Dad made from leftover mashed potatoes, smoked sausage and fried egg noodles, and Mom's pepperoni pizza quiche. I don't know what it is about this quiche, but it's perfect.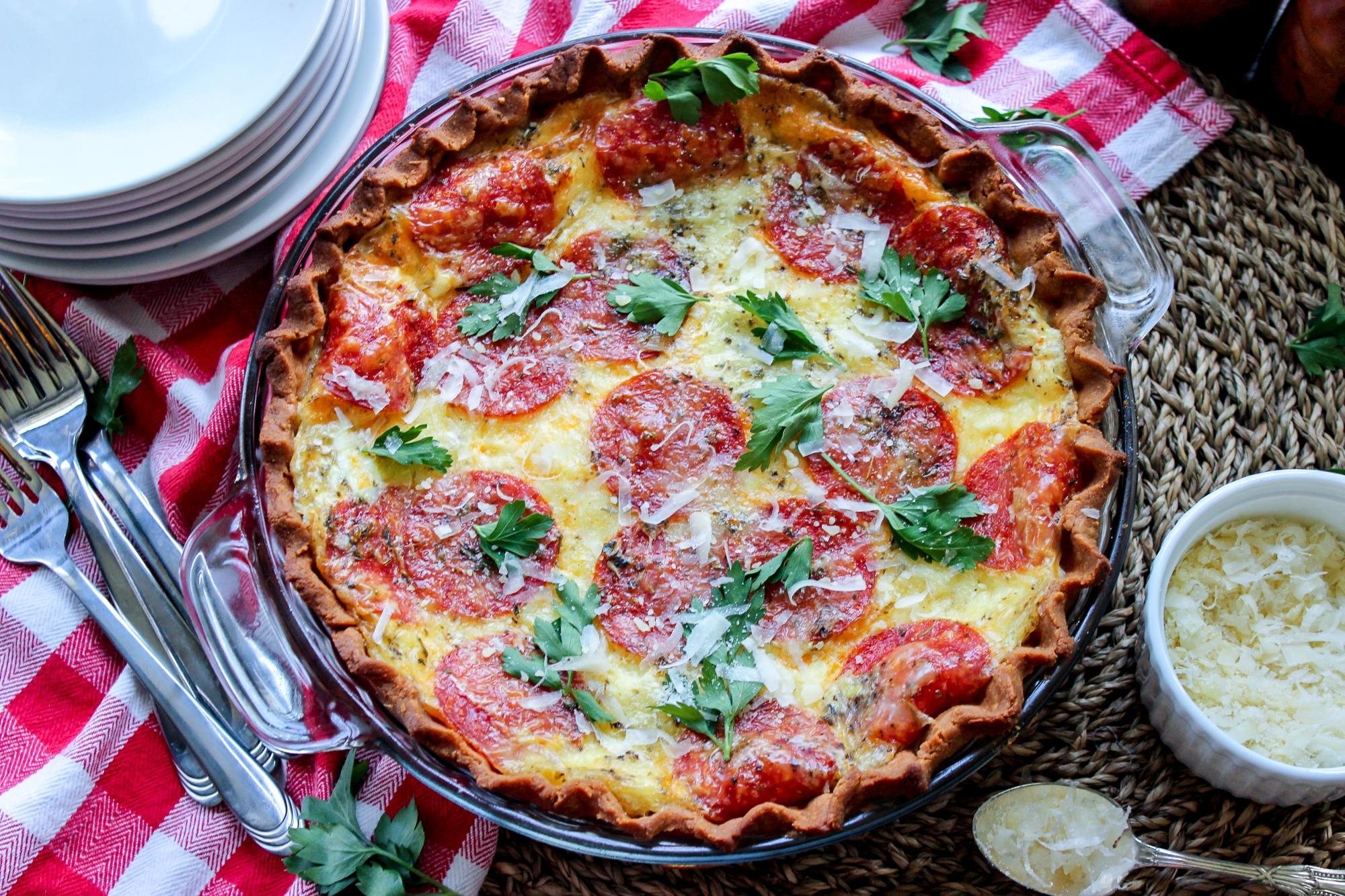 She often made it for dinner because it was easy to assemble and easy to get on the table. I think the leftovers didn't hurt and the fact that no one complained about dinner was always a positive too. This week's recipe is paying homage to one of my Mom's classics by putting a Keto twist on it.
Eggs, milk, cheese, and pepperoni are keto friendly by themselves, however the true trick is in the crust. I created an incredible gluten free and keto friendly crust technique back when I made this Low Carb Tomato Galette and it's sweeter counterpart, this Keto Sugar Cookie Fruit Pizza.
So, why not use it as a traditional pie crust for this Keto Pepperoni Pizza Quiche? Find the full recipe below and read on for some helpful tips and tricks.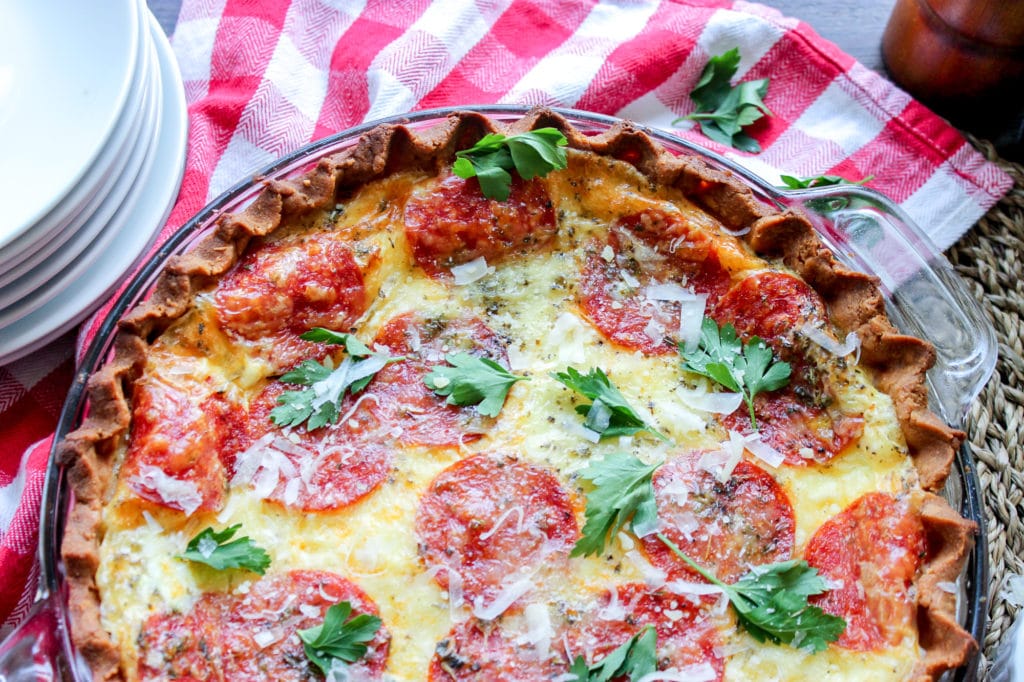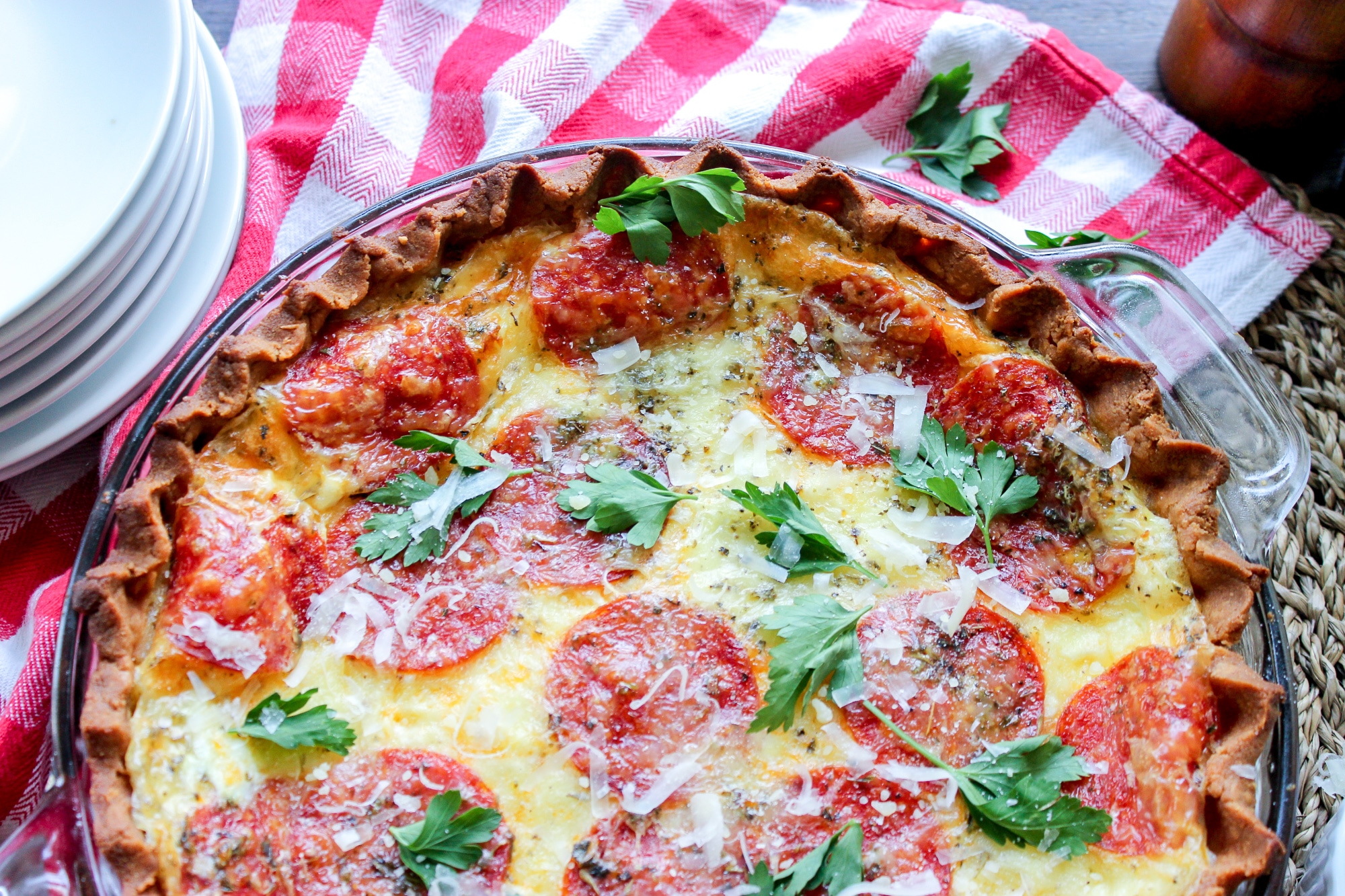 "School" Supplies:
9″ Pie Plate
Mixing Bowl
Hand Mixer/ Whisk
Liquid/Dry Measuring Cups
Food Processor (for the dough)
Parchment Paper
Rolling Pin
"Class" Notes:
If you want more of a break down in how I make the dough, I definitely suggest taking a moment and reading how I created it in the full recipe post. The process is actually very similar to a regular pie crust. I place all the dry ingredients into a food processor and mix till blended. Add the COLD butter in and pulse till it looks like cookie crumbs or cornmeal. Add in the egg to help bind everything together.
The xanthan gum and vinegar are important components for a few reasons (so don't leave them out). They help bind the ingredients together (along with the egg), but also make the dough more flexible and easy to bend without falling apart and crumbling. A little goes a long way. I purchased a small bag (that will probably last me years) from Target but you can also purchase online through Amazon. I use Bob's Red Mill.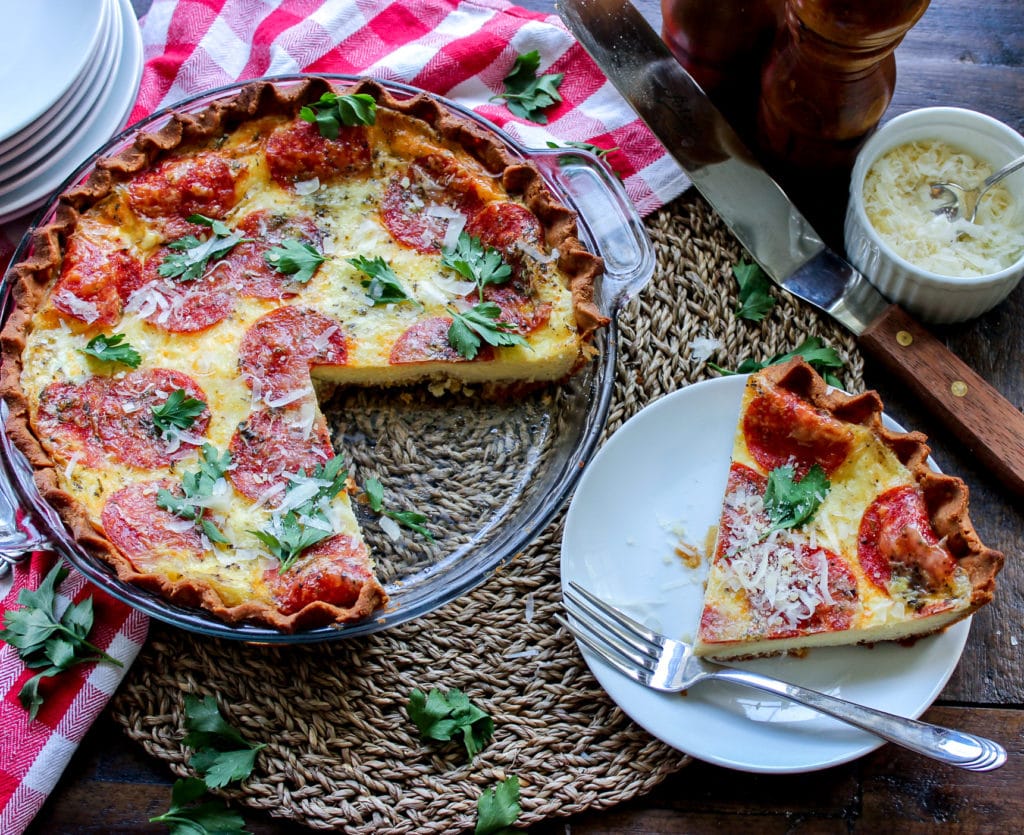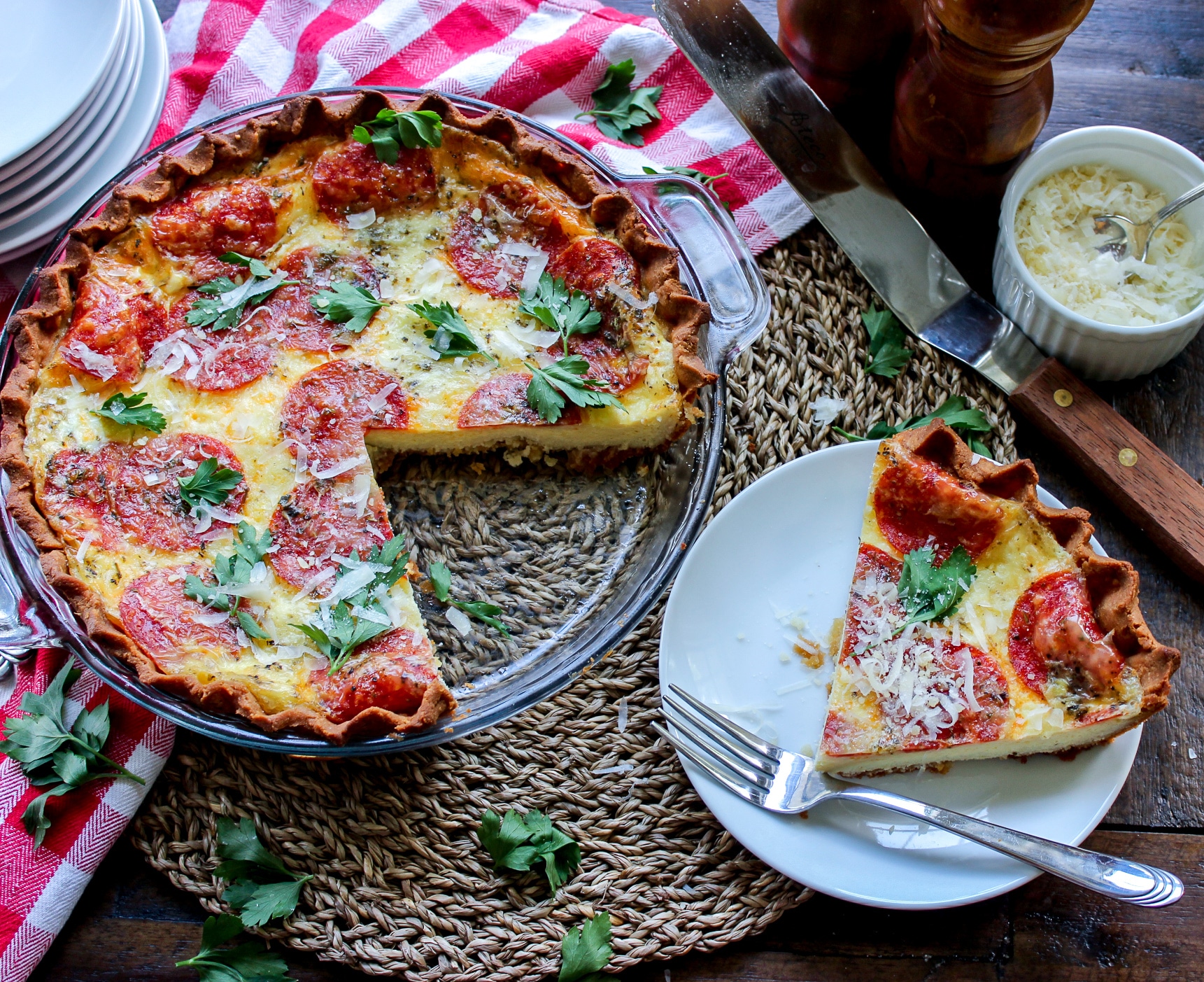 The nice thing about this dough, is it can be made ahead of time and chilled in the fridge for a few days. I wouldn't leave it too long, as some of the ingredients will lose freshness. I roll the dough out between two sheets of parchment. Place your pie plate over the top and make sure you have about an inch of crust that will overhang from the edge.
Here is the only semi-difficult part…. After rolling, the dough may warm up slightly and become a little more tender. I usually peel the top layer of parchment off and flip the other into the pie plate. Peeling the second layer of parchment proves to be a bit more difficult.
Normally about 2/3's of the crust really makes it in cleanly. The rest (usually the sides), needs to be fixed and pressed in by hand. The nice thing about this crust is that it is VERY forgiving and easy to patch up. Once the crust is in, make a little notched edge and use a fork to poke a few holes throughout and set aside.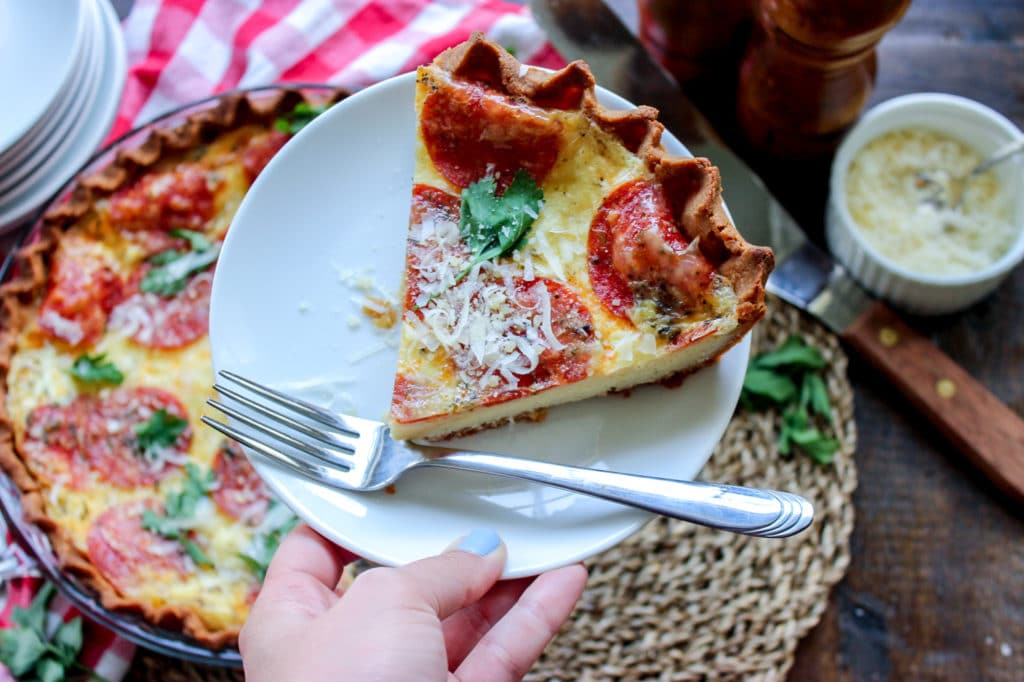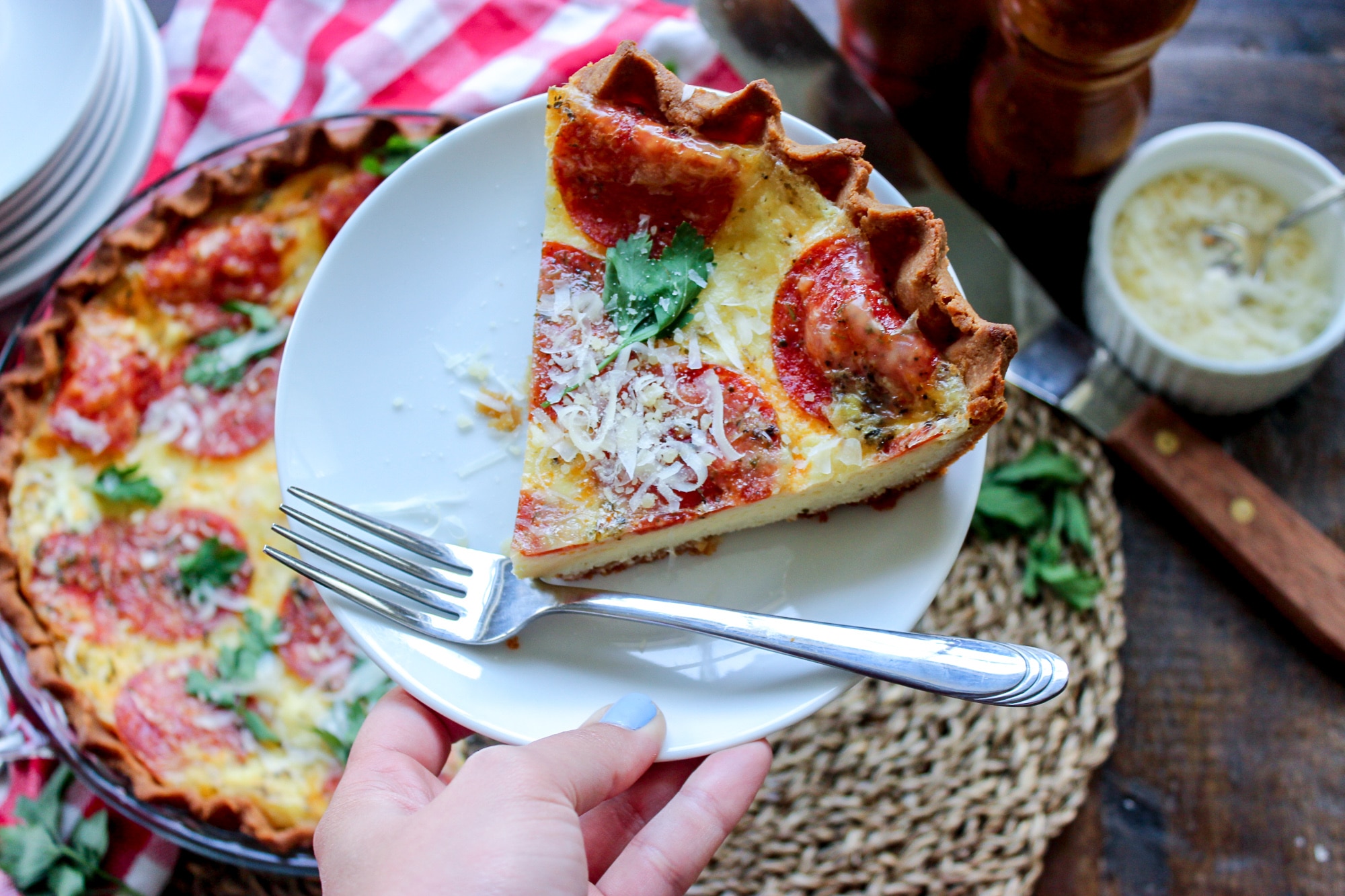 In a bowl (or even a blender), mix the eggs, milk, salt, pepper, and Italian seasonings (optional) together. Place half of the cheese on the bottom of the quiche crust. Make a small layer of pepperoni. Then, slowly pour the egg mixture in as to not disturb or lift the cheese and pepperoni off the bottom (it will naturally rise up slightly).
Top the quiche with the remaining cheese and a few slices of pepperoni for visual appeal. I bake with foil on for about 45 minutes and then remove it towards the end (about the last 15) so the crust does not get to dark. After it bakes, allow it to cool slightly and settle. Cut a nice slice of your Keto Pepperoni Pizza Quiche and serve!
If you like this recipe , give these other breakfast baked goods a try too!
Keto Ricotta Lemon Poppy Seed Scone
Keto Copycat Starbucks Egg Bites 
Bon Appeteach,
-L
Yield: 8
Keto Pepperoni Pizza Quiche
A savory, keto friendly quiche and pie crust recipe topped with fresh grated mozzarella and pepperoni.
Additional Time
30 minutes
Total Time
1 hour
45 minutes
Ingredients
12-15 Pepperoni Slices
6 Eggs
1 cup Half & Half
1 cup Shredded Mozzarella Cheese
Salt & Pepper
1/2 tsp Italian Seasoning (optional)
Pinch of Red Pepper Flakes (optional)
Instructions
Prepare your gluten free/ keto pie crust according to the directions.
Preheat the oven to 350 degrees F. Spray a pie plate with non-stick spray and spray a piece of foil and set aside.
When the pie dough is ready to be rolled out, place it between two sheets of parchment paper. I like to roll the rough into a nice circle by placing my rolling pin at "3 o'clock" and rolling it at a slight angle to "6 o'clock". Then, rotate the entire dough counter clockwise from "12 o'clock to 9 o'clock". Keep repeating these two steps until the dough is about 10" all the way around. Peel the top layer of parchment off and flip the dough into the pie plate. Mine usually breaks and is slightly difficult to peel off. Fix any cracks or holes along the bottom or sides by pushing the crust down with your hands if needed. It's very forgiving so do not stress if this happens! Notch the edges with a fork or your fingers if desired.
Place 1/2 cup of mozzarella across the bottom of the crust, then add a layer of pepperoni.
In a mixing bowl, beat the eggs, half and half, and spices together. Carefully pour over the top of the cheese/ pepperoni so it is covered. Sprinkle the top with the remaining 1/2 cup of cheese and add a few more pieces of pepperoni of desired for visual appeal.
Bake, covered with foil for about 35-45 minutes. Remove the foil and continue to bake until the center is fully set and not liquidy. Total baking time is about 60 minutes.
Allow it to cool slightly before serving (this makes slicing easier). Reheat in the microwave at half power for even heating and to avoid hot spots!
Notes
Swap the pepperoni for your favorite pizza toppings instead!
Nutrition Information:
Yield:
8
Serving Size:
1
Amount Per Serving:
Calories:

380
Total Fat:

32gg
Saturated Fat:

11g
Trans Fat:

0g
Cholesterol:

187mg
Sodium:

234mg
Carbohydrates:

7g
Net Carbohydrates:

4g
Fiber:

3g
Sugar:

1g
Protein:

17g