Keto Copycat In N' Out Burger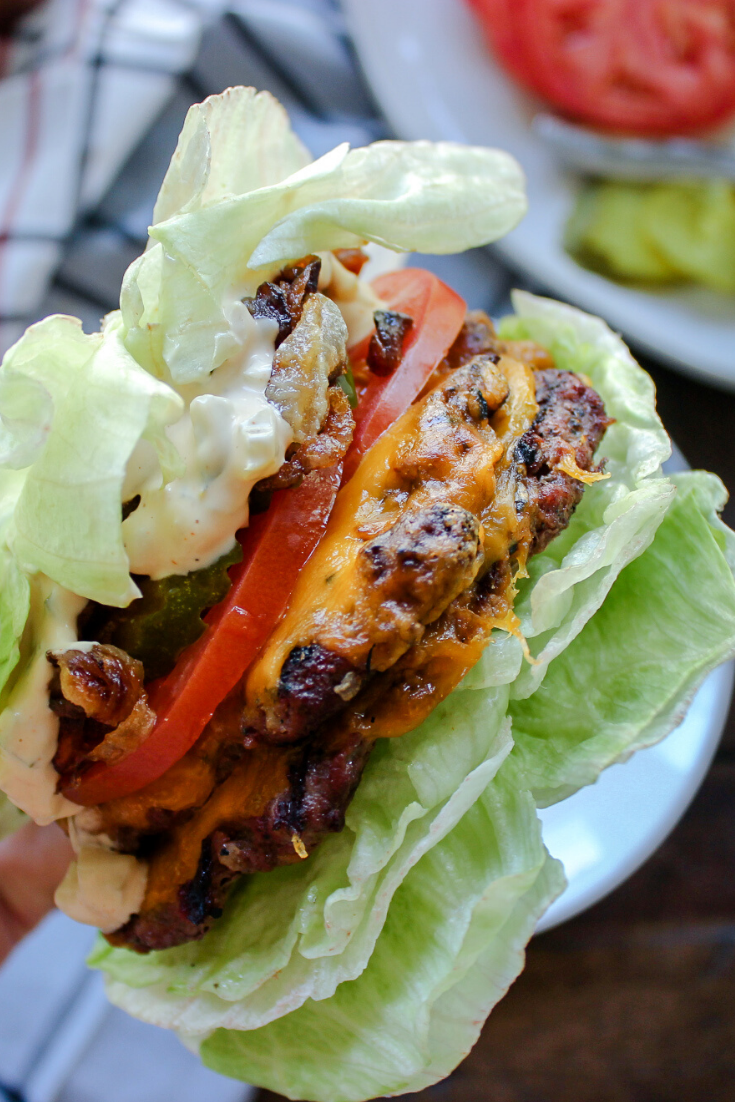 Get your favorite smash burger fix at home with this keto double double "protein" style copycat burger recipe!
I grew up in Chicago, where we have amazing char broil style burger joints, but we don't however, have any In N' Out restaurants. I've lived in three other larger cities across the country and still, not one had an In N' Out!! 
If you follow the Instagram keto crowd, you often see people eating this popular "protein style" smash burger from this popular fast food joint. I finally was able to enjoy my first one when I visited California back in 2015. It didn't disappoint (diner burgers all the way)! 
This is my keto friendly take on the popular protein style In N' Out burger. I made mine "smash burger" style with an all over char. Add your favorite toppings and sauce and wrap it in lettuce bun and dig into what I think is a pretty damn good replica of this popular keto friendly burger.
Find the full recipe for these easy to make, protein style, Keto Copycat In N' Out Burger's below. Be sure to read on for all my helpful tips and tricks and watch the video below!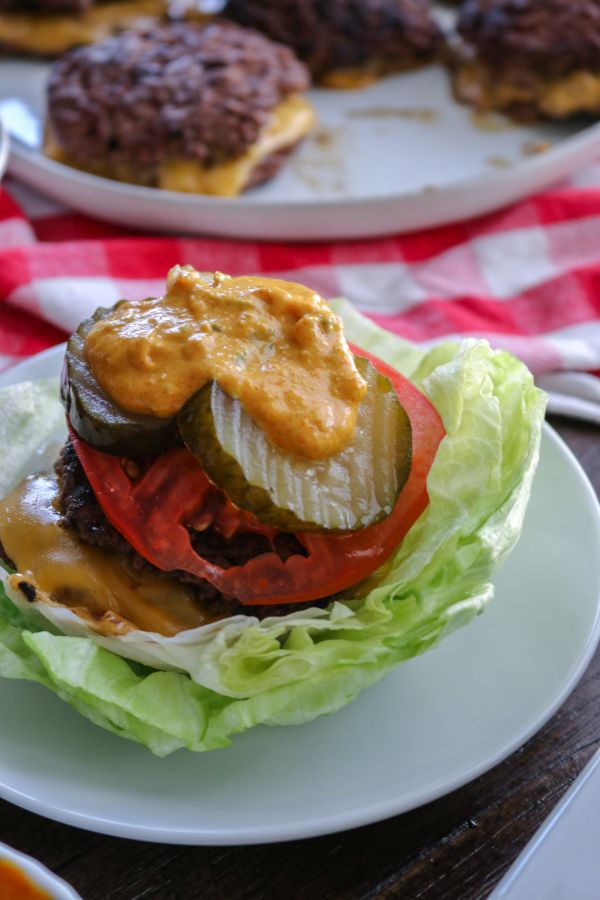 "School" Supplies:
Grill or Griddle (use a cast iron pan too)
1 Large Mixing Bowl
1 Small Mixing Bowl
Knife & Cutting Board
Large Cast Iron or Griddle
Measuring Cup & Spoons
Large Spatula 
Potato Masher (optional but helpful)
"Class" Notes:
There are many types of burgers out there and as diner style burgers, go this one definitely is at the top of my list. What's not to love about a good smash burger?
The beauty of the thin style burger patty, is that it cooks quickly and allows you to use a really hot cast iron or griddle to get that crispy, crusty, all over char that taste so delicious.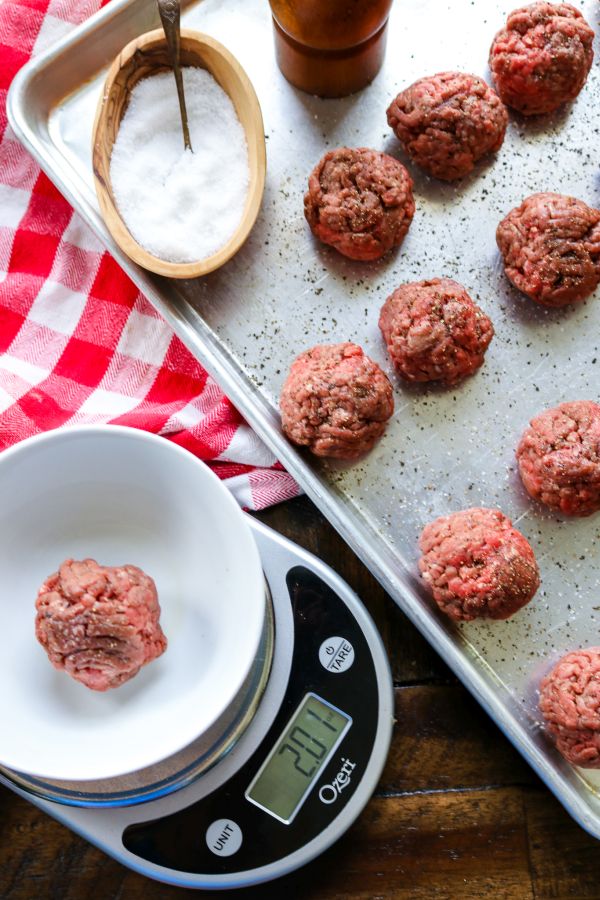 The trick to making the perfect patty, is to pre-measure out the patty's to be two ounces each and roll them into balls. Be sure to use a ground beef that consists of an 80/20 fat ratio as well so you get that nice crispy sear when cooking. Season the tops with salt and pepper and allow them to warm up a bit so they smash better.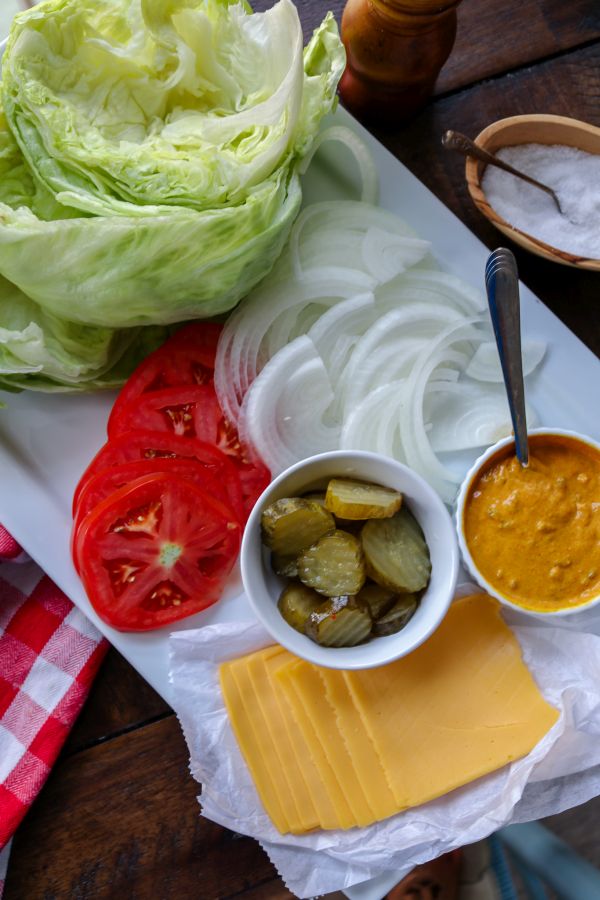 To cook these burgers, I use my Lynx Grills griddle, cranked it up to high heat and allowed it to get really hot to ensure the meat browns and doesn't steam. Place two meatballs onto the griddle, use a large, wide spatula and press down.
For added pressure to create a thin patty, I like to use a potato masher and press on the top of spatula to get them super thin. As they begin to brown, flip them over and add cheese to one of the burgers.  Once they're cooked, stack them and remove them from the griddle.
Traditional In N' Out burgers are basted with mustard on one side and also include caramelized onions. It adds a lot of rich flavor and a few more carbs to the end result but its definitely worth it in my opinion too!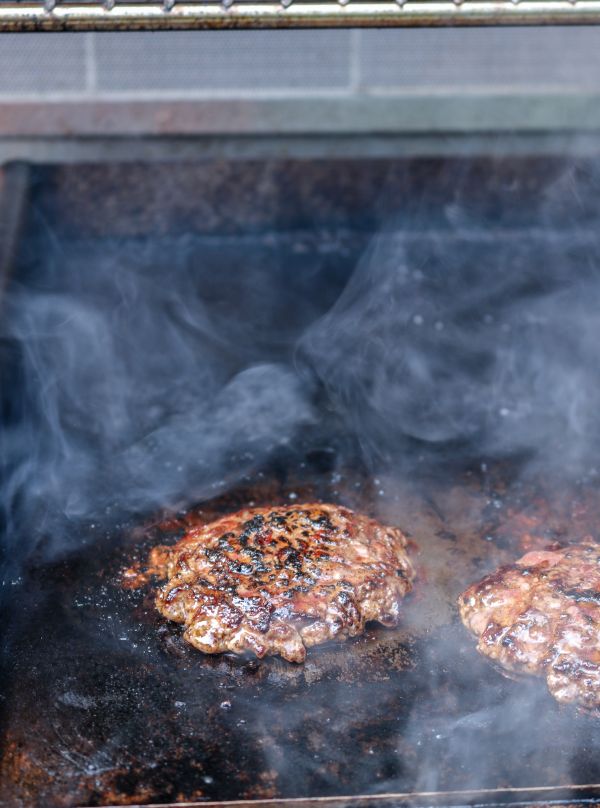 Assemble your burgers with the lettuce bun on the bottom, some sliced onion, your burger patties, tomato, pickles, and of course the special sauce. Top with another lettuce bun and dig in! On occasion like to use a Sesame Smart Bun for the rare occasions I just really want "bread".
Sometimes I even go bunless… I know.. I get wild.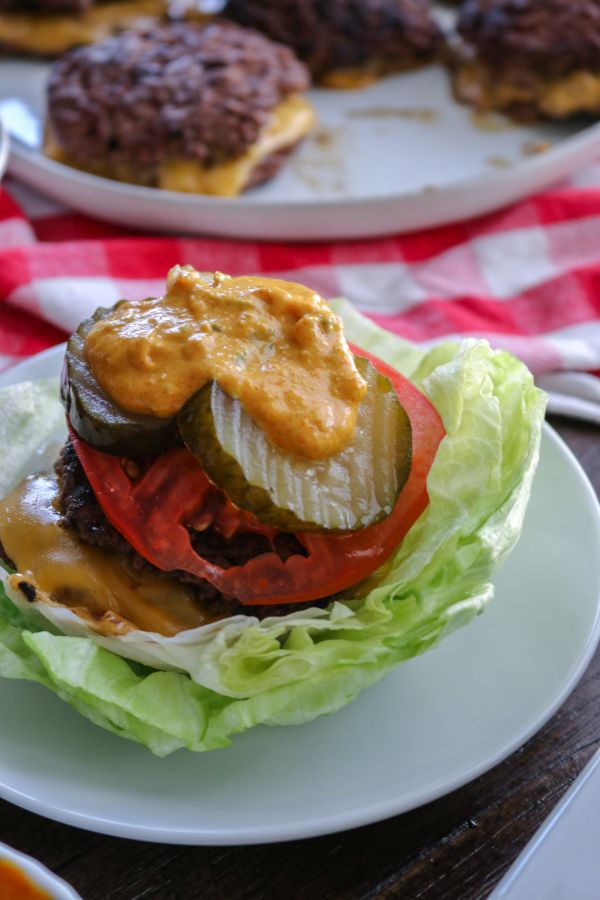 Bon Appeteach,
-L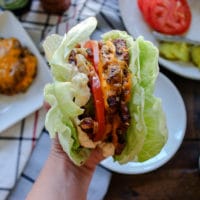 Keto Copycat In N' Out Burger
Get your favorite smash burger fix at home with this keto double double "protein" style copycat burger recipe that tastes just like In N' Out! 
Print
Pin
Rate
Ingredients
Burgers:

1

lb.

Ground Beef

80/20 preferred

Salt & Pepper

4

slices

Yellow American Cheese

Sauce Ingredients:

1/3

cup

Mayo

I like avocado mayo personally

1

Tbsp.

Sugar Free Ketchup or sub 1 tsp. Organic Tomato Paste

1

tsp.

Mustard

2

Tbsp.

Diced Pickles

1-2

tsp

Pickle Juice

1/2

tsp.

Salt

1/2

tsp.

Paprika

1/2

tsp

Garlic Powder

Toppings:

Iceberg Lettuce "buns"

Sliced tomato

Pickles

1/2

Yellow Onion

sliced thin (traditional In N' Out caramelizes the onions too)
Instructions
Start by preparing the sauce. In a small bowl combine the mayo, sugar free ketchup, 1 tsp of mustard, diced pickles, pickle juice, and spices. Mix together and test taste. Flavors do meld better together over time so feel free to adjust.

To prep the hamburger patties, measure out 2 oz. of meat per patty and roll into a meatball. Repeat so you have 10 total meatballs. Season the tops with sea salt and cracked black pepper.

Preheat your cast iron/ griddle to a high heat. Add a little oil to the pan if necessary. Place two meatballs onto the griddle or pan, use a wide spatula and press down. I like to use a potato masher to help me press and smash the burgers as flat as possible. Baste the top (optional) in mustard before flipping. Work quickly. As the edges appear to brown, flip them. Place one piece of American cheese on one burger patty and stack the second patty over it.

To assemble the patty I start with a bottom piece of lettuce (my bun). add the slice onion, the double stacked burger patty, tomato, pickles, and the sauce. Cover with the second lettuce bun and dig in!
Notes
The nutritional information below is for the sauce and burger patties only. Please calculate your own for adding additional vegetables like lettuce, tomato, onion etc. since this varies for personal taste.
Nutrition
Serving:
1
g
|
Calories:
371
kcal
|
Carbohydrates:
3
g
|
Protein:
34
g
|
Fat:
24
g
|
Saturated Fat:
10
g
|
Polyunsaturated Fat:
11
g
|
Trans Fat:
1
g
|
Cholesterol:
117
mg
|
Sodium:
439
mg
|
Sugar:
1
g